Welcome to I, Popeye · An Author's Meanderings
This is the official author's page of Popeye Theophilus Barrnumb.
Don't forget to:
• Sign up to my e-mail list
• Like my Facebook page
• Follow my Twitter page
And check out news and information about my books, writing, publishing, reviews of books I've read, and related items.
These are my current, extant published works. Katydid, a post-apocalyptic genre novelette, available as an e-book and POD paperback, Zombie Squad: A Taste of Future Death, a FREE e-book short story singlet, and My Perfectly Wonderful Zombie Christmas, a FREE e-book novelette.
Coming Soon...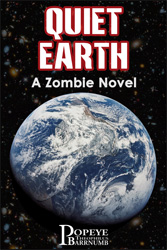 Quiet Earth is a zombie novel. Read it. (when it is published).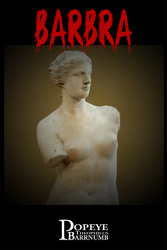 Barbra will be a psychological horror-thriller with a zombie theme novella. This is also an extended adaptation of a short film screenplay of the same name by the author.