iPopeye.net Logo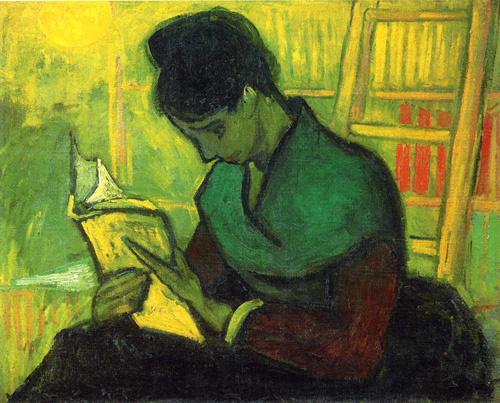 The Novel Reader; Vincent van Gogh; Painting, Oil on Canvas;
73.0 x 92.0 cm.; Arles: November 16, 1888.
Novel Reader is evocative of Van Gogh's sister, Wil (Wilhelmein). Van Gogh describes it in a letter to her, "'Une Liseuse de Romans', the luxuriant hair very black, a green bodice, the sleeves the color of wine lees, the skirt black, the background all yellow, bookshelves with books. She is holding a yellow book in her hands." The painting was made immediately after Van Gogh completed a "fantasy" painting of his mother and Wil, Memory of the Garden at Etten.
Wil, short for Wilhelmein, was the youngest of Van Gogh's sisters, born in 1862. She lived with her parents, and after her father died, stayed on with her mother. At times she was a governess, private nurse, social worker and religion teacher. She longed to be a writer and was enthusiastic to hear of news about Paris, its art and cultural happenings. Van Gogh and Wil wrote to each other about literature and modern art in much the same way he did with his brother, Émile Bernard and Paul Gauguin. Although successful in many endeavors during her long life, the latter half was spent in a psychiatric institute, where she died in 1941 age 79.