Zombie Squad: A Taste of Future Death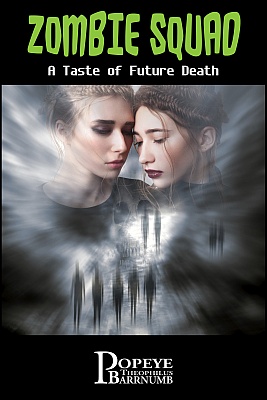 Zombie Squad: A Taste of Future Death is a FREE e-book singlet short story teaser-excerpt, the first two chapters of the first book of a Young Adult (-ish) novel series. The working title of Book 1 is "When We Used To Be Alive". (intended for teen to adult; novel completion and publication date unknown)
The full story is about two freshly-orphaned, mid-teenage girls trying to survive in a Zombie Apocalypse. In a world oddly lacking in adults, filled with crazed zombies, and some humans who are worse in their own way, to increase their chances of survival, the girls join a group of mostly-teens who call themselves… the Zombie Squad.
---
Zombie Squad: A Taste of Future Death is available as a FREE e-book.
For FREE downloading as a Kindle .mobi file, and other e-book formats, or as a PDF document, go to Smashwords:
www.smashwords.com/books/view/545552
This FAQ entry at Smashwords explains how to download a .mobi file to your Kindle w/o Amazon.
Barnes & Noble Nook version is FREE: www.barnesandnoble.com/…/1122024024
The Amazon Kindle e-book version is sightly different from the Smashwords version, but only in some formatting. Also, since it is problematic to offer free e-books on Amazon, copies ordered there will have to pay the minimum allowed price ($0.99) and consider it an 'automatic downloading fee'.
A PDF document with the cover image can be downloaded here. (~350K)